Industry Connect Panel Series
I – The Secret Sauce to Structuring and Producing South Asian Global Hits
II – Bringing Diverse Stories To Life In Hollywood
III – The Rise of Documentaries: Telling Cinematic Stories
LOCATION: Tagney Jones Hall, 363 Mercer St, Seattle, WA 98109
11:00AM – 11:45AM
I – The Secret Sauce to Structuring and Producing South Asian Global Hits
Venue: Tagney Jones Hall, 363 Mercer St, Seattle, WA 98109
An exclusive panel discussion with distinguished Insights into navigating the world of film production, where industry experts shed light on the critical role of Executive Producers. Delve into the behind-the-scenes world of filmmaking, from securing funding to shaping the future of South Asian cinema. Don't miss this opportunity to gain valuable insights into the art of producing films that leave a lasting impact.
Panelists confirmed:
APOORVA BAKSHI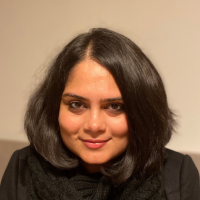 Apoorva Bakshi is an International EMMY Award-winning producer, most notably known for her NFLX Series DELHI CRIME and the widely watched Doc Series THE HUNT FOR VEERAPPAN; National Award-winning films, SHUT UP SONA & LEECHES; and Netflix Musical WHAT ARE THE ODDS?. She serves as a Co-Founder and Managing Partner of Golden Karavan, Awedacious Originals, and Project FUEL carving her niche as one of the youngest producers of prolific South Asian productions.
An accomplished story engineer, Apoorva collaborated with auteurs & filmmakers and developed a robust slate of genre-defying projects which include Book Adaptations, Period Drama Series, Animation Features, Scripted and Unscripted Films, and TV shows. A fierce guardian of independent voices, Apoorva has also successfully acquired and distributed over 50+ award-winning independents, notably the Cannes favorites, GANGS OF WASSEYPUR; Golden Globe shortlists FANDRY & SIDDHARTH; IDFA winner PLACEBO and Indian Selection for the Oscars VISARANAI among others. She has also worked at Sony Pictures Entertainment Networks Asia on large-scale format productions AMAZING RACE ASIA, CYRIL SIMPLY MAGIC & INDIA'S MINUTE TO WIN IT.
SAMUDRIKA ARORA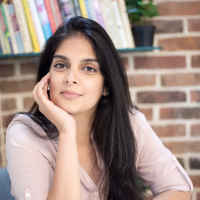 New York and New Delhi based film producer Samudrika Arora has a long-formed career in international cinema, having collaborated on several Academy-Award winning feature films such as Clint Eastwood's Hereafter, Woody Allen's Midnight in Paris and Blue Jasmine, Kathryn Bigelow's Zero Dark Thirty and Ang Lee's Life of Pi, amongst others.
Her most recent producing credits include Afghan Dreamers, international feature film directed by two-time Academy Award winning filmmaker Bill Guttentag, starring Nikohl Boosheri, Ali Fazal and Phoebe Waller-Bridge. Prior to this, she produced A Call to Spy, directed by Academy-Award nominated filmmaker Lydia Dean Pilcher, starring Radhika Apte and Stana Katic – which premiered at the Edinburgh International Film Festival in June 2019; and Radium Girls, starring Emmy- nominated American actress Joey King and Abby Quinn — released at the 2018 Tribeca Film Festival in New York City.
She is currently developing her next feature film, AMRI, set to be directed by internationally acclaimed filmmaker Mira Nair.
Moderated by Rita Meher
12:00 PM – 12:45 PM 
II – Bringing Diverse Stories To Life In Hollywood
When it comes to telling diverse stories into Hollywood, there's no single path to getting a greenlight. But now with both the WGA and SAG-AFTRA striking, what's the future of diverse content and talent in the industry? Here, three professionals with expertise in directing, producing, and writing—across both film and television—share their career journeys, their tips for navigating the business and bringing ideas to life, and their stories on what it means to be a South Asian creator. 
Panelists:
GEETA MALIK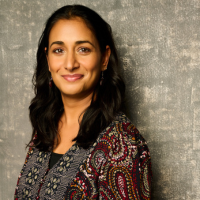 Geeta Malik is the writer and director of the film INDIA SWEETS AND SPICES, which stars Bollywood superstar Manisha Koirala (BOMBAY, DIL SE…), Adil Hussain (LIFE OF PI, DELHI CRIME), Sophia Ali (UNCHARTED), and Rish Shah (MS. MARVEL). The film premiered at the Tribeca Film Festival and is currently streaming on Hulu.
Geeta's script for INDIA SWEETS AND SPICES, formerly called DINNER WITH FRIENDS, won the Academy Nicholl Fellowship and the Austin Film Festival Comedy Screenplay Award. She also won the inaugural Academy Gold Fellowship for Women.
Geeta was one of seven directors selected for the 2022 Warner Bros. Television Directors' Workshop. She directed episode 217 of the Emmy-winning show ABBOTT ELEMENTARY, titled "Mural Arts," which aired this past March.
Geeta is a Film Independent Project Involve Fellow and an alumna of UCLA's graduate film program. She wrote and directed the viral narrative short, AUNTY Gs, which earned a College Television Award (a "student Emmy") in comedy from the Academy of Television Arts and Sciences. Her other short films include SHAMELESS, BEAST, and APU'S REVENGE. Her first feature film, TROUBLEMAKER, premiered at the 2011 Cinequest Film Festival.
SWATI SHETTY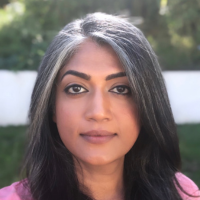 Swati Shetty is a producer based in Los Angeles focused on creating films and TV with global representation. She is currently in development on 3 feature projects with strong Asian representation through her company Samosa Stories. She has also recently partnered with two ex CAA agents in Bridge7, a company focussed on producing International TV and film. 
Swati is the lead producer of the recent romcom Wedding Season, which is a Netflix Original directed by Tom Tey. Prior to launching her own company, she was Executive VicePresident at Imagine Entertainment leading global content. She moved to the US in 2016 as Netflix's first employee from India to lead Originals and Acquisitions. She saw much success during her time at Netflix, having worked on multiple Originals and a large number of acquisitions.
While in her previous avatar in India, she produced Umrika, a drama feature through her own banner Samosa Stories. The film went on to win India's first Sundance award (2015) in addition to multiple other honors and awards across the world.
She is a Pharmacist, MBA by education who began her entertainment career at Star TV. That was followed by Disney where she worked across various businesses starting with the Disney Channels, went on to lead content distribution for Disney-ABC, and eventually led the studio team towards local productions. She then acquired local Bollywood experience as President of Balaji Motion Pictures where she put together a successful slate of films and led the team through the making and success of The Dirty Picture, the first ever female-driven film that had extraordinary success at the box office. Swati has a unique breadth of experience across both business and creative. She is a member of the Producers Guild of America.
Moderated by Shiwani Srivastava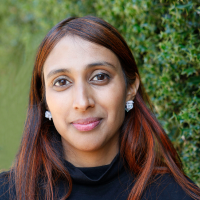 Shiwani Srivastava was raised on Bollywood films and the rom-coms of the 1980s. She writes screenplays examining relationships, family dynamics, and immigrant experiences through the lens of comedy, drawing on her work as a journalist and her family's roots in India. Her romantic comedy WEDDING SEASON was released by Netflix in August 2022, where it debuted as one of their Top 5 films worldwide. Srivastava, repped by A3 Artists and Affirmative Entertainment, was named one of Variety's 10 Screenwriters to Watch in 2022. She has projects in development with Paramount, Netflix, ReelFx, Gunpowder & Sky, and Samosa Stories. A native of New Jersey, she received a BA in English and Journalism from NYU and an MA in South Asian Studies from the University of Washington in Seattle, where she currently lives.
1pm – 2pm 
III – The Rise of Documentaries: Telling Cinematic Stories
This informative panel will delve into the dynamic and growing trend of documentary films as a potent vehicle for narrative storytelling. The panel will look at the transformative power of documentaries, showcasing how they break free from conventional constraints by seamlessly blending cinematic artistry with genuine storytelling, all in the pursuit of shedding light on a myriad of subjects.
From addressing pressing social issues to weaving captivating personal narratives, our panelists will explore the ever-evolving landscape of documentary filmmaking. They will unravel documentaries' profound impact on audiences and delve into the delicate art of crafting visually compelling narratives that simultaneously captivate and enlighten.
Panelist
Mohammed Ali (Mo) Naqvi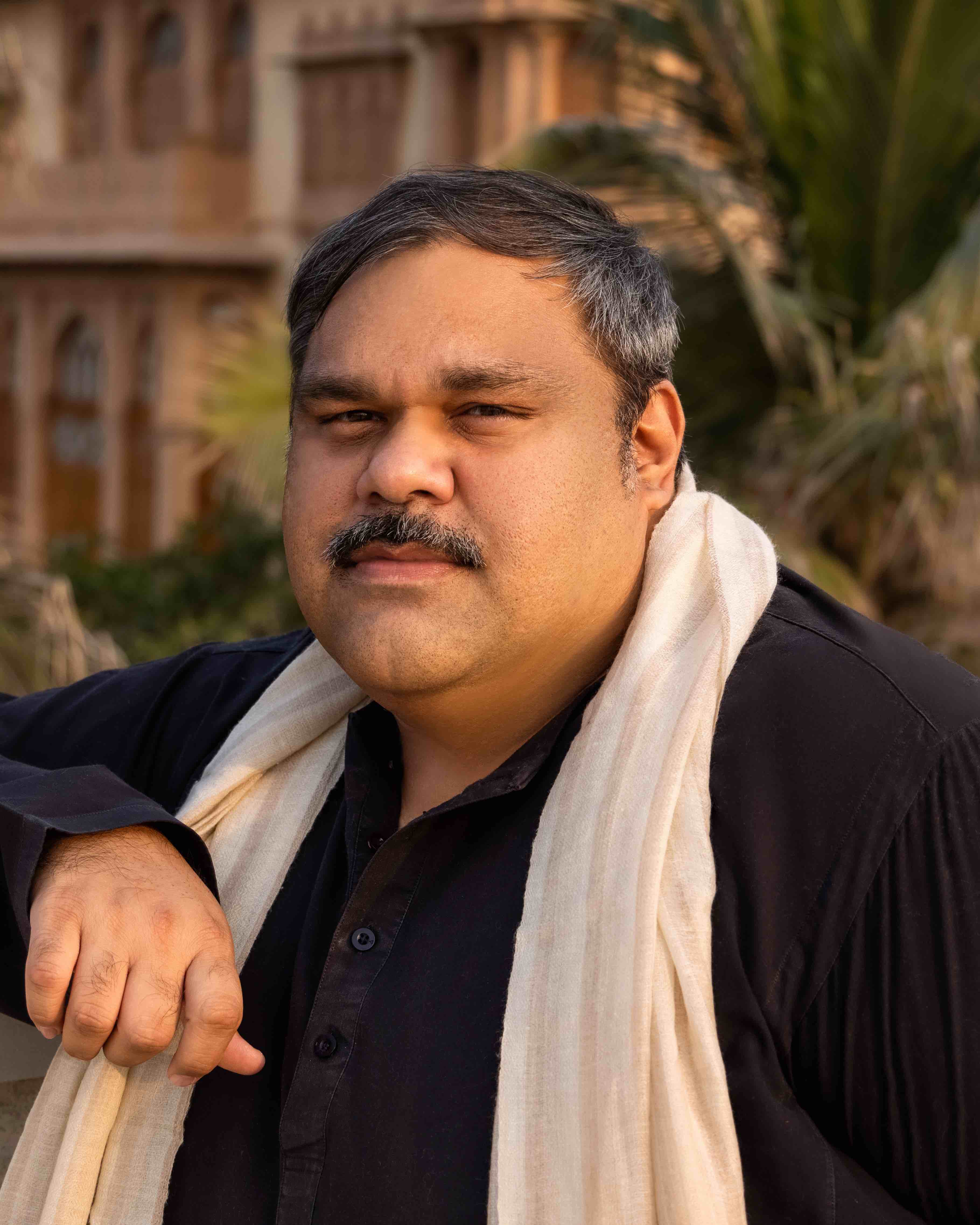 A member of the Academy of Motion Pictures and Television Academy, Mohammed Ali (Mo) Naqvi produced the Netflix Original Top 10 docu-series Turning Point: 9/11 and the War on Terror. He received the inaugural Emmy Television Academy Honor for directing and producing Showtime Original Shame. He has been nominated for an Independent Spirit Award, a Cinema Eye Honor, and the UNESCO-FELLINI Prize. His portfolio includes productions for Showtime, HBO, MTV, CNN, Discovery, Starz, BBC, and Hulu. His films have been screened at a number of festivals including Toronto, Berlin, Busan, and Tribeca, and showcased at the Museum of Modern Art.
Other notable documentaries include his Emmy-nominated Among the Believers (World), Emmy nominated The Accused: Damned Or Devoted? (BBC, Arte/ZDF, PBS World) winner of the Asian Media Award, UNAFF Grand Jury Winner Pakistan's Hidden Shame (Channel 4 UK), and Insha'Allah Democracy (BBC, STARZ). Beyond non-fiction, Naqvi has produced fiction features including road-trip drama Big River (Official Selection: Berlin Film Festival) and comedy I Will Avenge You Iago, starring Giancarlo Esposito and Larry Pine. Originally from Karachi, Pakistan – Mo is currently the chairman of the Pakistan Academy Selection Committee which selects Pakistan's official submission for the Academy Awards.
Moderated by YTD